Jo' Buddy's Trio Riot – album review Blues & Rhythm Magazine, UK June 2019-issue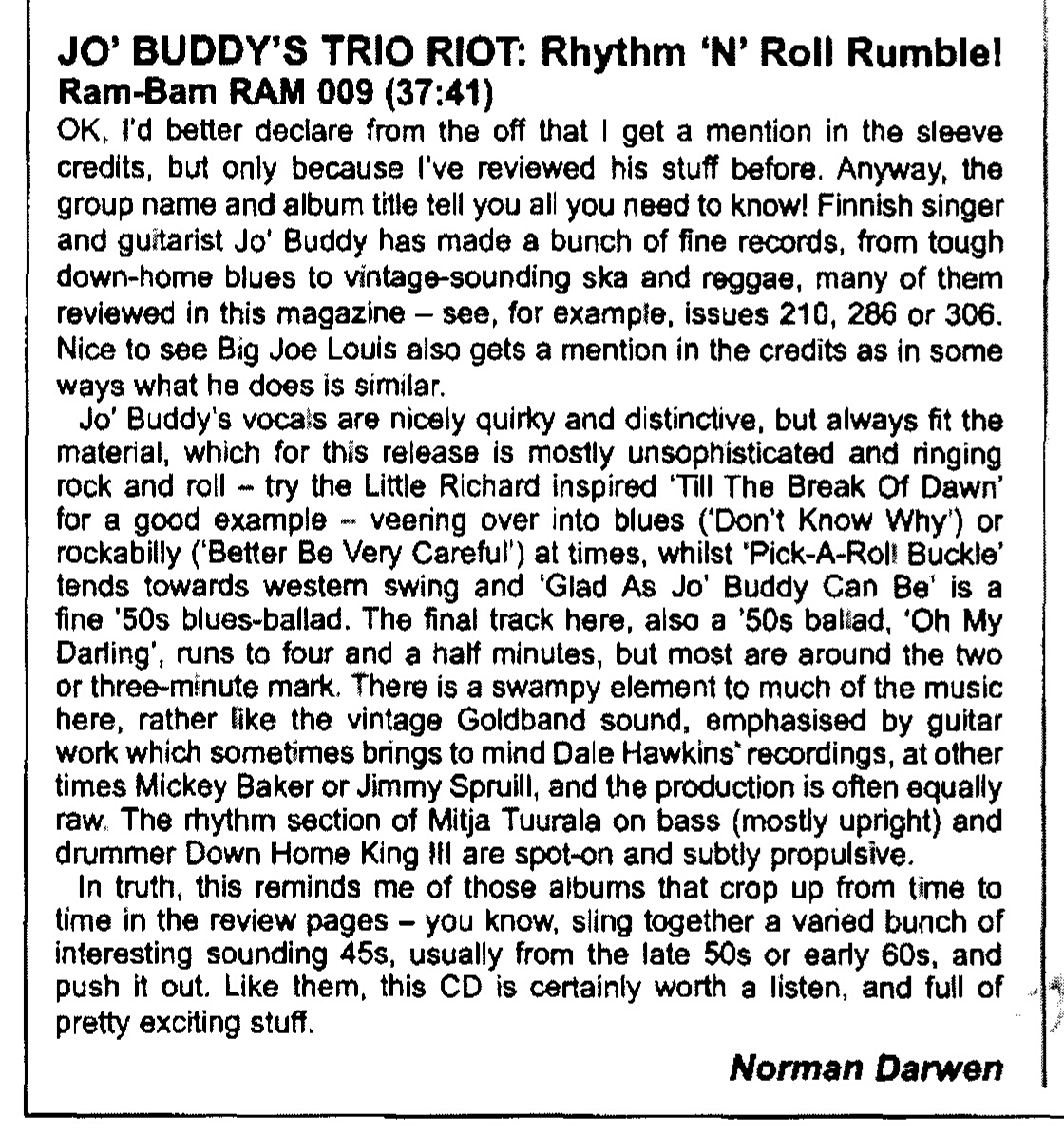 ---
JO' BUDDY'S TRIO RIOT:
Rhythm 'N' Roll Rumble
(Ram-Bam Records)
Swings well all the way
Jo' Buddy, or Jussi Raulamo whom I imagine his mother would prefer to call him, is a very busy gentleman with a myriad of bands going on, but just at this crossroads it's the new release of his rock n' roll band – Jo' Buddy's Trio Riot – that's about. Sure, I said rock n 'roll – Jussi Raulamo's first big love. He fell for this music when he, as a 13-year-old, heard Little Richard and 'Long Tall Sally', and over the 40 years that have passed since then, Jussi has always thought – and dreamed – of making one pure rock n 'roll disc. And when asked why waiting for four decades to realize the dream, Jussi replies: – I waited until I had enough songs to fill a whole plate with.
What should you say about the result of 'Rhythm' n 'Roll Rumble? Well thanks, this swings well all the way through, I think Jussi and his comrades Tyko 'Down Home King III' Haapala and Mitja Tuurala are very happy with the work. Deliciously varied, too, it may not be surprising when the guys highlight the following styles as their sources of inspiration for the work; New Orleans rhythm & blues, gospel, doo wop, rockabilly, western swing, swamp rock & pop, down home blues, surf & garage rock. Pooh !, In total, this is according to the band; Rock 'n' Roll Rumble.
'Rhythm' n 'Roll Rumble' is Jussi's 12 albums, and his sixth as Jo' Buddy. We can safely say that the songs he spent 40 years compiling (he has of course written all by himself) well complete an entire release, and for my own part I just hope to see this gla'-gang on a scene somewhere. This drug I think can really be fun live too.
Bjorn Wiksaas