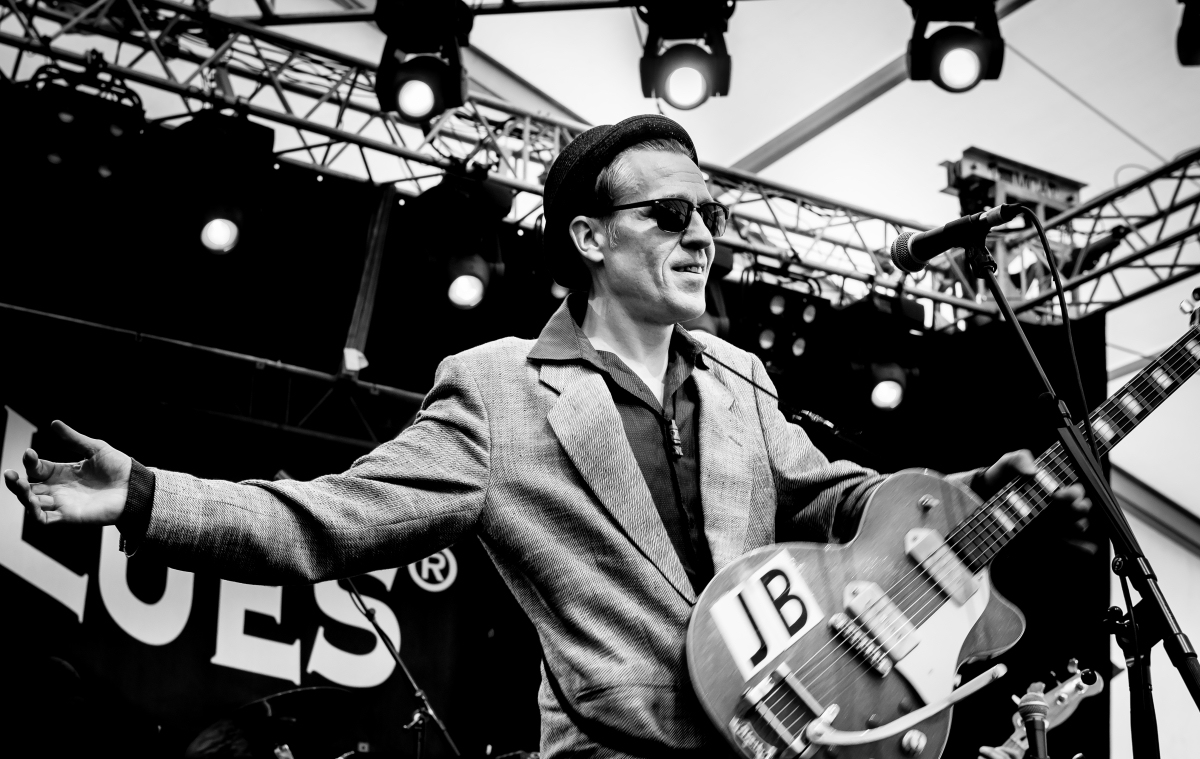 A singer, guitarist, songwriter, troubadour, bandleader, melting pot Jo' Buddy is a full package!
He has a very individual & personal style. His laid back music spreads joy of life, being simultaneously raw, timeless, earthy & spiritual. It's a rich & spicy Rattle'N'Roll Gumbo including; Ragtime, Swing, New Orleans Rhythm & Blues, Swamp Boogie, Down Home Blues, Boogie Woogie, Jump Blues, Cajun, Zydeco, Gospel, Soul, Hillbilly, Western Swing, Rock'N'Roll, Rockabilly, Ska, Rock Steady, Surf & Garage Rock, Latin Grooves, Heartfelt Ballads…and even echoes of Western African Rhythms or Spanish Flamenco!
His versatile live repertoire consists of his original worldclass songs only & sounds like nobody's business. Jo' Buddy is a true music lover, who simply lives from his music and admires the Good Times. He really gives it all away when he begins to do the things he does the best – sing and play – in his deep and heartfelt way !!!
After 39 years of experience on the road with thousands of shows in 16 countries and countless recording sessions have honed him as one of his generation's most talented & outstanding roots rockers. Now at 55, he is ready as Jo' Buddy can be to continue being busy performing all over nightclubs, schools, festivals etc. in your neighborhood, town, region & country! ARE YOU READY?
---
Jo' Buddy has played with many great ones like:
BELGIUM: Willy Maze, The Fried Bourbon, Shakedown Jim, Nico Vanhove,…
CANADA: Danny Marks, Carlos del Junco, Brian Cober & the Nationals,…
DENMARK: Cajun du Nord, Peter Nande, Tim Lothar,…
FINLAND: Jussi Raittinen, Eero Raittinen, Pelle Miljoona, Dave Lindholm, Tuomari Nurmio aka Judge Bone, Pepe Ahlqvist, Howlin' Hessu Heinonen, Helge Tallqvist Band, Esa Kuloniemi, Rock-Ola, Boppin' Pete, Tokela, Marjo Leinonen, Niko Ahvonen, Tuomo, Hoedown, Tomi Leino, The Frostbites, Wang Dang Dudes, Micke & Lefty, Veeti & The Velvets, Sami Saari, Aki Sirkesalo, Jussi Syrén & the Groundbreakers, Knucklebone Oscar, Yukka White, Jere Ijäs, Anssi Kela, Funky Kingston, Jarkka Rissanen, Erja Lyytinen, Dave Forestfield, Olli Haavisto, Hoedown, Ismo Haavisto, Jouni Joronen, the Stringbeans, Masa Orpana, Sam Huber, The Fat Bullets, Juho Hurskainen, Sara Lee, 3 Legged Dog, The Wentus Blues Band, Olli Ontronen & Mighty Shitty, Black Motor, Hot Heroes, Sakari Kuosmanen, Nieminen & Litmanen, Janne Haavisto & Tom Nyman (of Laika & Cosmonauts), Anssi Nykänen, Kai Hahto, Marzi Nyman, Crawfish Kings,The Roadracers, Jake's Blues Band, Down Home Kings I to III, The Irrationals,…
FRANCE: Bo Weevil Blues Band,…
JAMAICA: Tony Uter,..
THE NETHERLANDS: The MarbleTones, Ben Bouman, Anne-Maarten van Heuvelen, Walter Hopmans,…
NORWAY: Knut Reiersrud Band, Rita Engedalen, Billy T & Alex Pettersen, Reidar Larsen, Dr. Bekken,…
RUSSIA: The Jumping Cats
SENEGAL: Ismaila Sane,…
SWEDEN: Sven Zetterberg, Trick Bag, Jim's Combo, Knock Out Greg & Blue Weather, Fatboy, Ulf Sandstöm of Jump 4 Joy, Svensson & Dafgård, The Papa Dan & Mr JO Drum & Bass Error System, The Domestic Bumblebees, Paul & The Blue Delivery,…
UK: Diz Watson, Diz & the Doormen, Tony Uter, Little Victor, JD Harmo & The Electro-Tones, Big Joe Louis, Little George Sueref & The Blue Stars, Dexter Shaw & The Wolftones, Vince Lee & The Big Combo, Becca Langsford, Lewis Fielding, King David, West Weston's Bluesonics, Black Voices, Davide Mazzantini, Marco Buono, Marco Farris, Matt Radford, Orlando Shearier, Ian Jennings, Slim Cyder, Paul Riley, Nick Pentelow, Nick Payne, Brian Nevill, Rob Pokorny, Mike Watts,…
USA: Big Jay McNeely, Maceo Parker & Horny Horns, Louie Bluie String Band, Lazy Lester, Eddy Clearwater, Louisiana Red, Oliver "La La" Morgan, Jim Kweskin, Chris Thomas King Band, Kim Wilson, The Fabulous Thunderbirds, Gene Taylor, Lee Oscar, Doyle Bramhall Sr., Junior Watson, Rick Holmstrom, Alex Schultz, Jeff Turmes, Larry Taylor, Kedar Roy, Richard Innes, Fred Kaplan, Mike Tempo, Tad Robinson, Bob Margolin, David Maxwell, Daryl Davis, Bob Corritore, The LeRoi Brothers, Mike Buck, Wes Starr, Ernie Durawa Band, Danny Cochran, Speedy Sparks, Ivan Brown, Lurrie Bell, Roy Hytower & Motif, Bill Sims, Seasick Steve, Carlos Guitarlos, Homer Henderson, Bob Brozman, Phil Pemberton, T.J. Wheeler, Rockin' Jake, Lynwood Slim, R.J. Mischo, Mark Hummel, Hash Brown, Christian Dozzler, Andy J Forest Band, Brian Templeton & The Radio Kings, The Rhythm Rats, Doug McLeod, Nathan James, Wiley Cousins, Kat Baloun, Third Degree, Billy T, Big Walker,…to name a few